The Morning Navigator Newsletter
The Navigator is my daily journal on global markets, music, spiritual inspiration, and pop-culture that will become the morning note you read first.
The Navigator draws on Tony's 30 years of trading experience and reaches 700 professionals daily. With fifteen years of writing about markets on his resume, Tony Greer has developed a system of following them that drives him toward the right trades and good risk reward.
The trade ideas and expert market coverage are weaved together with a Study Break ending to complete one of the best trading newsletters on the market.
* Included In Morning Navigator and Point Lookout Packages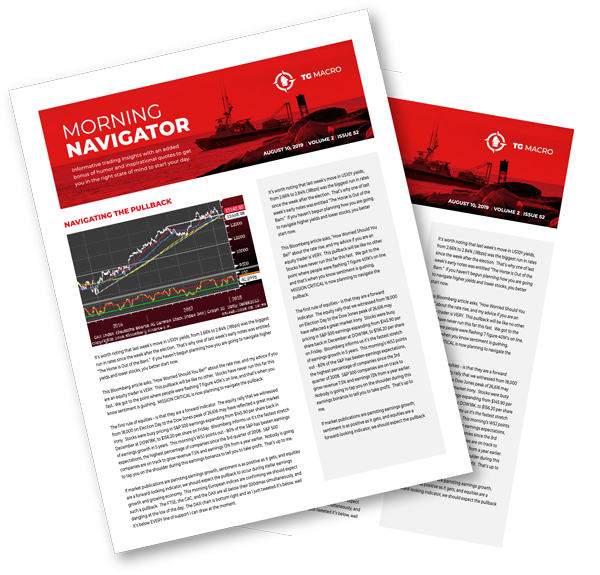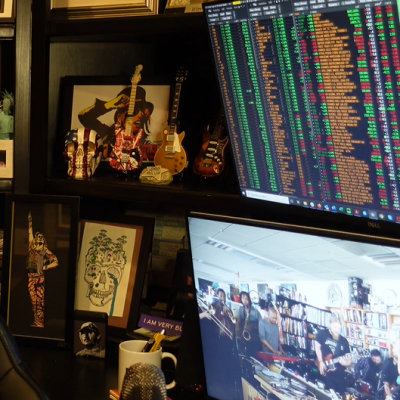 The Inner Circle Interviews
The Inner Circle Interviews are interviews with Tony's inner circle of traders. Interviews with these special guests are exclusive to Morning Navigator and Point Lookout package subscribers only.
* Included In Morning Navigator and Point Lookout Packages
The Quarterly Technical Tour is available to Point Lookout Package subscribers. The Quarterly Technical Tour a long form publication that offers Tony Greer's views across all four asset classes – FX, rates, equities, and commodities – four times per year. It includes his structural view of the markets as well as updates on trades on the View Matrix and new inputs to the Radar Screen.
* Included In Point Lookout Package Only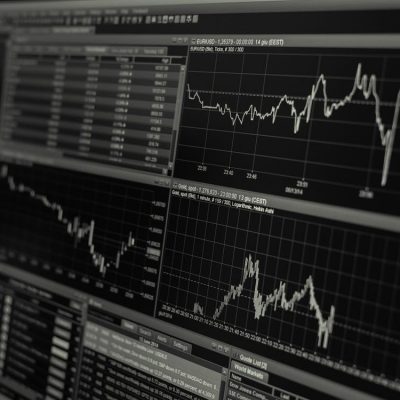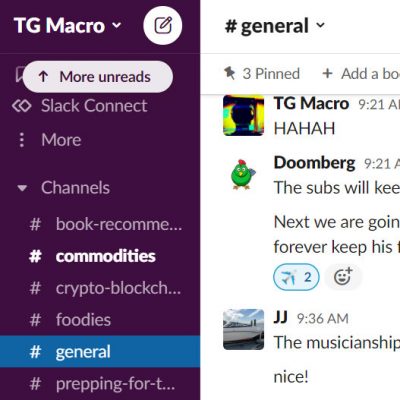 The TG Macro Slack Channel fulfills my mission of creating a community and establishing closer relationships with my subscriber base.
The TG Macro Slack Channel is divided into nine channels – book recommendations, commodities, crypto/blockchain, foodies, general, prepping, stocks, and music.
Participants contribute real time observations, articles, and data points on a consistent basis, keeping everyone well-informed.
Everyone with a Point Lookout Package membership is encouraged to participate. There is no rule against simply spectating and following along.
* Included In Point Lookout Package Only
Tony's daily note strikes the right tone between incisive ideas and killer actionable setups. He's always on point and the Morning Navigator is peppered with slice of pop culture humor and a little fun to spice up my morning brew.
As a financial advisor I'm less glued to my screen then my days as a hedge fund pm, but I still need to know the pulse of the markets. I find reading TG's daily keeps me abreast of what's driving the market, and his charting skills have been honed for 3 decades which provide a tremendous compliment to any news I'm digesting. Of course his writing style is unique, inspiring, thoughtful, and hopefully the last one the cyborgs replace!
Tony has outstanding insight and can summarize complicated topics into a digestible format. He has a great eye for off-the-beaten path stories that are relevant for macro and micro investors alike.
The Morning Navigator succinctly and insightfully makes sense of the macro picture, while being respectful of the micro. Tony does a great job of giving his opinion on the charts and technicals which are the current "tells" that demand attention and explains why he thinks those "tells" help tie in with the fundamentals driving markets.
Tony Greer's multi-decade cross-asset experience support his differentiated outlook on global capital markets. I open up TG Macro every day to get a read on market sentiment and the technical setup across equities, currencies, fixed income and commodities. His edge is fueled by bringing a confidence in opinions to deliver very clear forecasts where there is no room for interpretation.
The Morning Navigator is a daily essential for those who have business, interest or investments in today's markets. His words are straightforward and always relevant to what's happening in the world of economics. The entertaining Study Break will keep you coming back for more.
Tony brings a trader's rigor and insight to the Morning Navigator. His diverse experience across asset classes and institutions have given him a great feel for macro markets and what's driving the price action. I have a deep respect for his network of industry contacts and sniff for value. Great insight and fun to read.
Although Tony is a natural trader and I am extremely long term. I read his work religiously because his trading logic is laced with fundamental insights not to mention humor and fabulous quotes.
Tony Greer's Morning Navigator paints a sharp discerning picture of the global macro world every trading day. He combines fundamental insights with a technical perspective that brings focus to a chaotic global landscape. Tony leverages his vast network to bring informative trading insights with an added bonus of humor and inspirational quotes to get you in the right state of mind to start your day. I highly recommend the Morning Navigator.
Great stuff as always, I may be biased since TG Macro is my first read every morning. It's the smell of coffee and trading in the morning. Tony has a great marco-techno approach and he delivers it in an educational and entertaining manner. Hands down my favorite technical analyst especially since it's not done in a vacuum. I've been reading his stuff for years so I was delighted to see him start his own product. I was one of the first subscribers just like I was one of RealVision's first subscribers. I highly recommend you check him out.